Trailer · Background Material · Pictures · Official Site · Flyer
Genre: Drama
Produced by: Anita Elsani
Co-producer: Rolf Schmid, Sylvain Bursteijn
Written & directed by: Pierre-Henri Salfati
Starring: Mario Adorf, Hannelore Elsner, Katharina Derr
The novel "Der letzte Mentsch" is published by Suhrkamp


"Superb performance by Mario Adorf..." Kai-Uwe Brinkmann, Münstersche Zeitung
"Pierre-Henri Salfati...has managed to create a sweeping and manifold road-movie." Miryam Gümbel, Jüdische Allgemeine

Invited to the 34th San Francisco Jewish Film Festival 2014
"Poignant, funny and deeply moving, The Last Mentsch is a powerful, emotional journey." -Alissa Chadburn

Synopsis:
Marcus Schwartz (Mario Adorf) is an old man who has lived with a cautiously buried secret for most of his life - for Marcus Schwartz was born as Menah'hem Teitelbaum and has concealed his Jewish heritage ever since he survived the horrors of Auschwitz.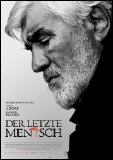 Now, as he has decided that he wants to be buried on a Jewish cemetery, he has to verify what he has carefully hidden for most of his life and that proves to be quite a difficult task.

On the journey to his roots in Satu Mare, a little village on the Hungarian-Romanian border, he is accompanied by Gül, a young German Girl of Turkish heritage, who, just like Marcus, tries to come to terms with her past...


"Der Letzte Mentsch" on Facebook