About atlas international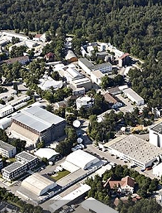 Atlas Office Building
atlas international Film GmbH was founded in February of 1967 by Dieter Menz and with a corporate history of more than 50 years, it is one of the oldest film sales companies in the world. The company's core business is the worldwide licensing of feature films, series and documentaries for all media.

atlas international represents more than 100 individual producers from all over the world. In the years since it was founded, atlas has made more than 12,000 license agreements with clients from all over the world. From sales and marketing to servicing and deliveries, all aspects of international program sales are handled by in-house specialists. This has given atlas the flexibility and fast response demanded by today's competitive market.

Through worldwide contacts and aided by its long-standing experience in worldwide film sales as well as its intimate knowledge of the copyright situation in the international markets, atlas today sells features, TV-movies and series in all media, arranges production financing and structures co-productions for theatrical and television product. atlas international combines half a century of experience with a feel for the future of the entertainment industry.


In April 2015 the company was taken over by wonderworld entertainment GmbH and is being managed
by Michel J. Vandewalle.