Regina Ziegler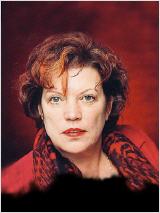 Regina Ziegler founded her company "Regina Ziegler Filmproduktion" in 1973. Since then, she has become the most successful female producer in Germany. With over 400 productions, she has covered almost every genre from feature films, documentaries, tv-movies and television series to stage productions. Many of her productions have been awarded with prizes both nationally and internationally.

In 1998, German President Roman Herzog dedcorated her with the "Bundesverdienstkreuz 1. Klasse", one of the highest German medals. In 1999 she received the "American Cinema Foundation Award" in Los Angeles and she was labeled "one of the world's key producers" by the American Cinema Foundation. Regina Ziegler has won numerous other awards in her carrer and in April 2006, she was honored with a Retrospective in the Museum of Modern Art (MoMa) in New York.

IN SEARCH OF AN IMPOTENT MAN - does the absence of sex help a relationship?