Marlene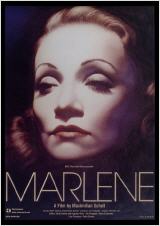 Trailer · Background Material · Pictures · Official Site · Flyer [459 KB]
directed by: Maximilian Schell
starring: Marlene Dietrich
produced by: Karel Dirka
genre: Documentary
running time: 91 minutes

This multi-award winning picture is no standard movie-star documentary. It is a mystery story, a discourse on truth and fiction, a battle with a sacred monster, a caustic comedy of errors, and the story of the making of a film, all rolled into one.

After years of public silence, the legendary Dietrich personally selected Maximilian Schell to make an interview film about her, an opportunity which Schell turned into a unique and richly entertaining record of an encounter with a real-life legend.

About Maximilian Schell:

Maximilian Schell was arguably one of the biggest German speaking stars. His international breakthrough came when Schell won the Academy Award for best male Actor for his amazing performance as the defense lawyer "Hans Rolfe" in Stanley Kramer's 1961 drama classic "Judgment at Nuremberg".

Since then, the Austrian born actor received two further Academy Award nominations, including a nomination for his documentary on his "Judgment at Nuremberg" co-star, Marlene Dietrich, but he could not repeat his 1962 Oscar win. For 49 years, until fellow Austrian Christoph Walz won his Oscar, Maximilian Schell, who was famous for constantly wearing a scarf, was the only living, German speaking Academy Award winning actor. Schell was also nominated for Golden globes (which he won twice), for Primetime Emmys, for BAFTA Awards, German Film Awards (winning twice), NYCC Awards (winning twice) and many other honors.

Schell started as a stage actor. Born as the son of a Swiss writer and an Austrian actress in 1930 Vienna, Schell studied philosophy and history of art in Zurich and soon discovered his love for the theater. With 23, he performed on stage in Basel. Gustav Gründgens hired him for his Hamburg production of "Hamlet" and performances in Munich and Salzburg followed. From 1978 to 1982 he starred in the famous Salzburg production of Hugo von Hoffmansthal's "Jedermann". His many international movie appearances included Jules Dassin's "Topkapi", Ralph Nelson's "Counterpoint", Ronald Neame's "The Odessa File", Sam Pekinpah's "Cross of Iron", Sir Richard Attenborough's "A Bridge too Far" or Mimi Leder's "Deep Impact".

He also worked a director, producer, playwright and painter. In the mid-eighties, Schell directed the documentary "Marlene", centering on the German actress icon Marlene Dietrich. At that time, Marlene Dietrich, who described herself as "photographed to death", was living a very reclusively life, categorically denying all requests for interviews. The film about the diva is based on more than 17 hours of audio recordings. "We had conversations that were partially very personal and partially very uncommunicative", Schell said later. Many people found this Oscar nominated documentary to be the most impressive work of Maximilian Schell.

Maximilian Schell, brother of famous actress Maria Schell and godfather of Angelina Jolie, died February 1st, 2014 in a hospital in Innsbruck, Austria. He was 83.