Mark Of The Devil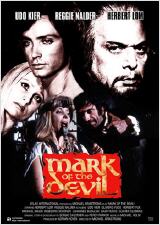 Trailer · Background Material · Pictures · Official Site
(Germany 1970)
Directed By: Michael Armstrong
Produced by: Adrian Hoven
Music: Michael Holm
Cast: Herbert Lom, Reggie Nalder, Udo Kier, Herbert Fux, Olivera Vuco,
98 minutes

in 2011/2012, "Mark of the Devil" has been extensively remastered and restored on HD from the original, uncut negative. For the first time, it is now available on HD with substantial bonus material, including commentaries/interviews by director Michael Armstrong and Udo Kier.

Synopsis:
"To the victims of Inquisition's tyranny there was the choice of death with its direst physical agonies, or death with its most hideous moral horrors." Edgar Allan Poe

Superstition and witchcraft torment the people in the 17th century. ALBINO (Reggie Nalder), a rural witch hunter terrorises a provincial town. He rapes the women, tortures them on the rack and burns them at the stake. A charming young girl (Olivera Vuco) and the young assistant (Udo Kier) to the Chief Inquisitor conspire to put an end to the foul deeds of this libertine. However, they fall into great danger when the Inquisitor (Herbert Lom) arrives in the town to commence his dreaded trials.

He accuses the young girl of witchcraft and subjects her to terrifying cross-examination. The young assistant, who has so far been loyal to his master, is conscious-stricken. Should he really believe that his beloved is a witch? Under dramatic circumstances he learns the true nature of his master — his sexual hysteria and the perverse background of his blood-thirsty punishments. As soon as he openly turns against the Inquisitor, the young man falls into a fatal trap.

He loses his life during a revolt from which the Chief Inquisitor only just escapes from the fury of the frenzied crowd. His beloved finds his body. Unable to comprehend, outraged, without hope and filled with grief, she is lost in the holocaust of the dark ages...