Slap In The Face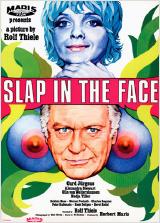 Trailer · Background Material · Pictures · Official Site
directed by: Rolf Thiele
starring: Curd Jürgens, Gila von Weitershausen, Alexandra Steward, Nadja Tiller
running time 90 minutes

"A film worth seeing!"
(Hildesheimer Presse)

Synopsis:
Attractive commune member Eva inherits 700 shares of stock which were once worth 70.000$ but have recently dropped to 700$. Furious and naked, she forces her way into the board room of the Terbank building - and slaps the face of the president. But who could have foreseen that the mighty Mr. Terbank would fall in love with the rebellious Eva....?